Browse our selection of Diecut Tray Sealing Machines
Die cut tray sealers are the ideal choice for sealing differently sized and shaped meal trays where cutting the film to the contour is preferred. With these machines, the option is available to leave a pull tab for easy opening, a feature that will give your product the professional, clean-cut look you've always wanted. Sealing CPET, APET or PP trays with a die cut tray sealing machine will enhance the appearance of your meal and prolong its shelf life, all at a reasonable cost. They are quick-sealing, affordable, and made to order.

If you are looking at packaging food/ready meals into a CPET, APET or PP tray, then we are the go-to people. We have the trays, the sealers, the film and the experience. It's just that simple!
The CiMa-Pak manual tabletop food tray sealer machine Model SR430 with die cut is ideal for any plastic or paper tray shapes where cutting the film to the contour of the tray is preferred. Depending upon their size, you can seal and diecut the lidding film of one, two, three, or four trays or bowls per cycle with ease. ...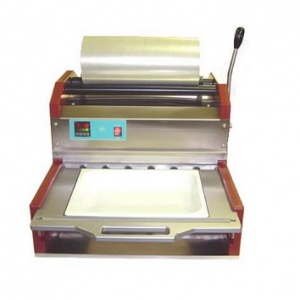 This semi-automatic tray sealing machine is a tabletop model with die cut features. Very compact, the RAPIDA PLUS is a drawer style food tray sealer that seals and cuts the film around the food tray with a pneumatic piston. As you push in the drawer holding your meal-filled trays, the sealing film is automatically drawn...