This section shows our Tray Skin Packaging Systems. Please contact us with any application which you may have. Currently we are working on a new Tray Skin Oven Packaging process.
Features - The Structure is Stainless Steel - Digital Vacuometer - Digital Control Panel with 25 programs - Vacuum by percentage and time - Manual lowering of the hood - Busch vacuum pump 25m³ / h - Capacity for 8 trays in one cycle (Depending on your tray selection) - Film Width: 17" (430mm) - Die-Cut ...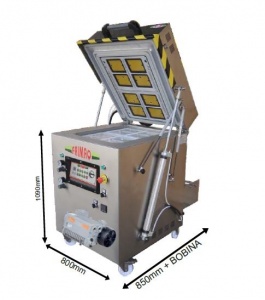 The benefit of vacuum skin packaging (VSP) equipment is easy to understand. The film is pulled down tight around a product creating what is commonly referred to as a second skin around the shape of a product. With the TSA 626 Vacuum Tray Skin Packaging system the customer typically places the product into a tray (Please...