Where shrink wrapping speed, automation and integration into your production line is the objective, then the FP6000 and FP8000 series of L-Bars and Tunnels will help.
Starting From: $37,961.00
The FP6000CS is a fully automated L-sealer that seals polyolefins and polyethylene films. • Can be combined with the T450 or T650 Shrink Tunnels. • Conveyor closing system included in the machine price • Motorized center seal system • Teflon-coated sealing blade • Continuous cycle sealing ...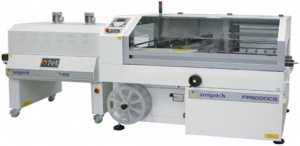 The Stainless Steel version of the PRATIKA 56 MPE automatic wrapping machine is intended for processing labs, food packaging facilities or pharmaceutical production. In terms of design, the priority was focused on practicality: along with the material specifically designed for the food industry, the double hood allows for...