Where shrink wrapping speed, automation and integration into your production line is the objective, then the FP6000 and FP8000 series of L-Bars and Tunnels will help.
Starting From: $37,961.00
The FP6000CS is a fully automated L-sealer that seals polyolefins and polyethylene films. • Can be combined with the T450 or T650 Shrink Tunnels. • Conveyor closing system included in the machine price • Motorized center seal system • Teflon-coated sealing blade • Continuous cycle sealing ...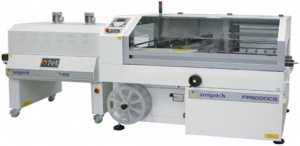 The Flexo 500 S Polybagger gives you one of the fastest set up and easiest to use polybagging systems available today. The touch screen controls will store up to 300 different products. With the optional automatic setup features, "recipes" can be recalled from memory and the Flexo 500 S will then automatically...