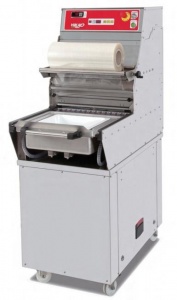 This is a Demonstrator Unit that has the 2200-1 series trays. The unit is currently located in our Montreal showroom and can be seen by making an appointment.
Typically a Demo/Floor Model sells for 25% off the list price. Please contact us for a quotation.
Here is some information for your review.
The Unica 25 is designed for businesses looking to start up or ramp up their existing tray sealing production to a medium level of output. At the same time affording them the ability to seal larger tray styles for catering and family sized meals and portions. Largest tray size is 370 x 280 x 115mm (14.5 x 11 x 4.5")
The tray sealer allows production to switch from one tray style to another with its easy and rapid tool change system, which is unavailable on smaller units. No tools required.
The Unica 25 is impressively built in stainless steel and aluminum, allowing for easy cleaning and up keep of the unit. It comes standard with a vacuum pump that is 25m³
CiMa-Pak Trays Tooling Set Up
2 Trays Per Cycle – 2200 Series