Browse our selection of Tray Sealers - Available and MOST POPULAR
Whether you are a food processing facility, a grocery store with speciality foods, a personal chef, or a restaurant with a takeaway menu, the models of tray sealing machines found here are by far our most popular. Using these meal packaging machines for sealing either CPET, APET or PP food trays will certainly make your task much easier and assure your customers that you are a viable solution to their quest for a healthy meal choice. These tray sealer machines are complete and ready to seal your selected food packaging containers, all while giving you the professional look that you've always wanted. Our food packaging containers will make a perfect matche for your delicious product.

If you are looking at packaging food or ready-to-eat meals into a CPET, APET or PP tray, then we are the go-to people. We have the trays (dual ovenable CPET or APET), the tray sealers (manual, automated, MAP) the film and the experience. It is just that simple!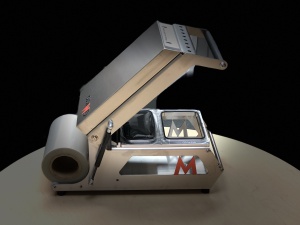 The professional product presentation you've always wanted is achieved with an affordable packaging solution ideal for new operations or low volume enterprises. The CiMicro Starter kit is the perfect tray sealing machine for personal chefs, test kitchens and start-up businesses. This meal packaging system allows for easy mold changes, which means that it is compatible with multiple sizes and styles of CPET food trays. Simply lower the lid of the sealer machine onto your meal tray and you will have a leak-proof seal in a matter of seconds.

Our Starter Kit which sells for $ 1,950.00 (plus applicable taxes and freight) includes:

• CiMicro Tray Sealer (110 Volts)
• Two cases of CPET or APET food trays from our 1171, 2171, 2187, 2200, 2208, or 2227 stock food tray program
• One roll of film
• One sealing frame

Bigger needs? Higher volume? Take a look at our Compact manual tray sealing machines.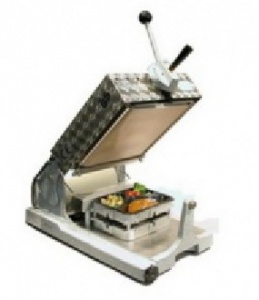 The CLASSIC model food tray sealer is an ideal option for packaging both cold and warm meals in either APET or CPET trays. If your tray selection requires only one width of sealing film then this is the sealer to choose.

Each compartment of a the food tray is sealed separately with the CLASSIC tray sealer so you can be sure to avoid any redistribution of food during delivery. As an added bonus, the food trays are sealed to be leak-proof and work to keep your product fresh longer. Delivery and carrying home is easy.

Versatility in packaging at its best, you can change from one tray style to another in 2 seconds.

The CLASSIC
• Seals APET, CPET and PP trays in 2 seconds
• Holds one roll of film at a time
• Maximum tray size: 11.4 x 10 x 1.9 inches (289 x 254 x 49 mm) (Tray 2290-1E)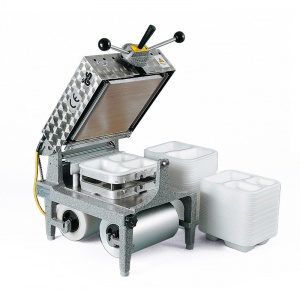 The COMPACT MODEL II food tray sealer is an ideal option for packaging both cold and warm meals in either APET or CPET plastic to-go containers. If the food tray styles that you want to use require two different widths of film, this is the tray sealer to choose.

Each compartment of the meal container is sealed separately with the COMPACT MODEL II tray sealing machine so you can be sure to avoid any redistribution of food during delivery. As an added bonus, the food trays are sealed to be leak-proof and work to keep your product fresh longer. Delivery and carrying home is made easy for you and your customers with this food packaging system.

Versatility in packaging at its best, you can change from one style or size of tray to another in 2 seconds.

The COMPACT MODEL II MANUAL TRAY SEALER
• Holds two rolls of film of different widths at a time. Each roll is available to pull and seal at any time.
• Maximum tray size: 10.1" x 9.4" x 3.50" (256 x 238 x 89 mm)
• Seals the tray in 2 seconds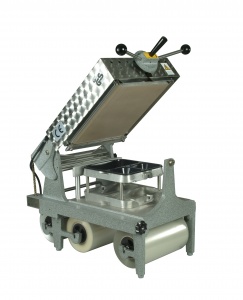 The COMPACT MODEL III manual food tray sealer is an ideal option for packaging both cold and warm meals in either APET or CPET food trays. If the food tray styles that you want to package require three different widths of film (from food service size down to airline-sized meals), the COMPACT MODEL III is the food tray sealing machine to choose.

Each compartment of the meal tray is sealed separately with the COMPACT MODEL III tray sealer so you can be sure to avoid any redistribution of food during delivery. The trays are sealed to be leak-proof and work to keep your product fresh longer. Delivery and carrying home becomes easier for your customers.

The COMPACT MODEL III
• Holds three rolls of sealing film of different widths at a time. Each roll is available to pull and seal at any time.
• Maximum tray size: 12.8" x 10.4" x 3.1" (325 x 264 x 79mm) (Tray 2325-1B)
• Smallest tray size: 6.7" x 3.85" x 1.3" (170 x 98 x 34mm) (Tray 1171-1B)
• Seals the tray in 2 seconds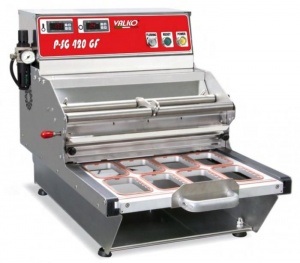 The P-SG 420 GF is the optimal table top tray sealing unit for small to medium productions where gas flush packaging is being used to increase the shelf life of your product. The small foot print of the unit allows for it to be placed easily within production facilities and test kitchens.

The unit is built in stainless steel, with a Teflon coated aluminum plate.

*Seal Only or Gas Flush

CiMa-Pak Stock Tray Tooling Set Up
3 Trays Per Cycle – 1171 Series, 2202 Series
2 Trays Per Cycle – 2171 Series, 2187 Series, 2200 Series, 2208 Series, 2220 Series
1 Tray Per Cycle – 2227 Series

Electrical version also available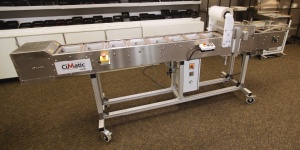 The CiMatic Tray Sealing Machine has been designed to offer customers an automated system at an affordable price. The goal is to seal ready meal trays fast and effectively at speeds up to 20 per minute.

Tell us which food trays best suit your application from our selection below and we will set the temperature, production speed and pressure so that all you have to do is turn on the CiMatic and allow it to heat up. This automatic food packaging machine does all the work for you. All you have to do is place your delicious meals onto the conveyor and the to-go containers will be hermetically sealed to ensure a leak-proof transportation of your product. The lidding film will be straight cut between each tray, giving your meal the product presentation you've always wanted.

The CiMatic meal packaging machine also allows for quick tray mold changes. This means that you can seal a variety of different styles and sizes of trays with this one food packing machine.

Watch the attached video to see the CiMatic in action and for a demonstration of the mold changes.

Unique features of the CiMatic :
- Food trays are transported using single pallet design, no joints.
- Changing from one tray size to another is easy.
- Motor is 1/4 HP with inverter.
- Jog conveyor backwards and forwards for easy set up
- Aluminium - Stainless Steel Build
- 2 Locking Castors
- Working Height: 35i
- Emergency STOP button on operator control panel – easily accessible from either side of the loading station
- Safety guards are in place

The following parameters can be changed by the operator:
- Temperature
- Sealing Pressure
- Conveyor speed

Speed of sealing by tray series at a comfortable level for the operators.
- 2171 Series - *20 Trays/min
- 2187 Series - *20 Trays/min
- 2208 Series - *14 Trays/min
- 2227 Series - *15 Trays/min
* The speed is adjustable by the operator