Browse our selection of Skin Packaging Tray Sealers
This section shows our Tray Skin Packaging Systems. We are currently working on a new Tray Skin Oven Packaging process.
Starting From: $50,000.00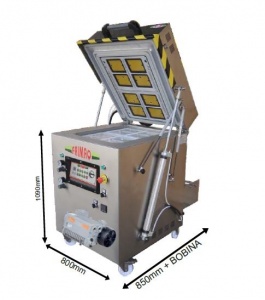 Features
Stainless Steel construction
Digital Vacuum gauge
Digital Control Panel with 25 programs
Vacuum by percentage or time
Manual lowering of the hood
Vacuum pump: 25m³ / h
Capacity for 8 trays in one cycle (Depending on your tray selection)
Film Width: 17" (430mm)
Die-Cut
Maximum Tray Dimensions: 1 Tray - 21" x 14.8" x 4" (537 x 375 x 100 mm) 2 Trays - 10" x 7" x 4" (256 x 175 x 100 mm) 4 Trays - 6.3" x 4.3" x 4" (162.3 x 108.3 x 100 mm) 8 Trays - TBD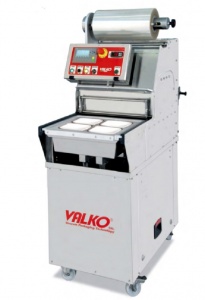 The TVG Machine is a mid-sized MAP packaging machine that is made for increasing output and can handle larger-sized trays. It is made completely of stainless steel and is also easily movable. The TVG MAXI MAP Machine has an automatic start of the cycle with the push of the two start buttons (Safety feature), film trim rewinder, and an end-of-cycle tray lifter. If you have more than 1 tray style, this machine is perfect as it has the capability of storing 5 programs. This means with the click as a button, you can easily go from one tray to another after the tool change..
For this machine, you can have a mould made for up to 6 trays per cycle. This depends on the size of your tray:
1 Tray - 350 x 275 x 115mm (13.78" x 10.82" x 4.5")
2 Trays - 275 x 180 x 115mm (10.82" x 7" x 4.5")
3 Trays - 275 x 100 x 115mm (10.82" x 4" x 4.5")
4 Trays - 175 x 130 x 115mm (6.88" x 5" x 4.5")
6 Trays - 95 x 95 x 15mm (3.74" x 3.74" x 4.5")
6 Bowls - 95 Ø