Browse our selection of Impulse Sealers
Heat sealers available in a variety of types and sizes to reliably seal bags of any kind.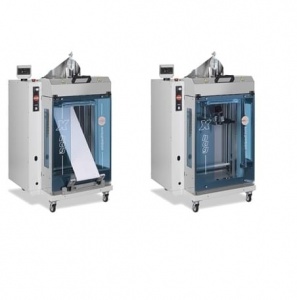 Simple to use. Simple to maintain. Simple to install.
X-BAG EVO-1 packaging system is the ideal solution for those who need to quickly bag small quantities of materials (fresh food, baked goods, small parts, spare parts, instruction manuals, small industrial components, etc.), in hermetic packages, in different formats and with different types of films.
X-BAG EVO-1 makes packaging simple: that's why it offers a genuine alternative to time-consuming manual packaging – and even to automated packaging with its larger and more complex machines, which are often inadequate for actual packaging requirements and come with higher operating and maintenance costs.
Practical and handy, the X-BAG EVO-1 can operate in continuous or pulse-based mode. It's so compact it can be placed in any kind of environment, even in restricted spaces.
Features:
COMPACT
Can be easily positioned anywhere, even in the restricted spaces of production areas.
SIMPLE
Minimalist in every feature from structure to operation, whether in continuous or pulse-based mode, it reduces the time taken for machine preparation, loading, programming, and maintenance.
INNOVATIVE -A patented system with two different and totally independent types of sealing: horizontal sealing with electronically regulated constant temperature and vertical continuous sealing with controlled air flow.
SAFE
Hermetic three-seal closure with any type of film using the patented sealing system, which guarantees maximum air-tightness for lightweight products (powders or granules) or heavy products up to 11 lbs. (5 kg.)
PRACTICAL
Quick change collars for format switching reduce machine downtime and increase productivity.
TECHNOLOGICAL
New Schneider Electric Colour Touch Screen with intuitive and simple graphics for even simpler management of all machine parameters.
ECONOMICAL
The initial investment is repaid by reduced processing times and bagging labour costs, plus savings on packaging materials.
MULTISECTOR
X-BAG EVO-1 can be used in different sectors and environments: bakeries, supermarkets, fruit and vegetable markets, health and hospital facilities, hardware stores, logistics centres, spare parts warehouses, and manufacturing.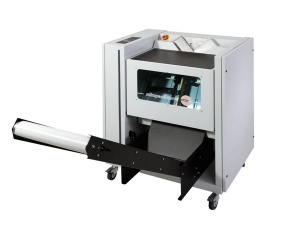 The CiMa-Pak Mailbag vertical polybagger is an automatic, vertical, poly wrapping machine designed for small and medium volume production. This system offers an excellent alternative to the higher speed units where 900 pieces per hour is acceptable.
Ideal for packaging magazines, catalogues, newsletters.
Products to be packed are fed manually.
An adaptor folds the film, forming a sealed envelope containing the product. When the process is complete, the product is ejected automatically.