Browse our selection of Semi-Automatic and Automatic Tray Sealers
Whether you are a food processing facility, a grocery store with speciality foods, a personal chef, or a restaurant with a takeaway menu, the models of tray sealing machines found here are by far our most popular. Using these meal packaging machines for sealing either CPET, APET or PP food trays will certainly make your task much easier and assure your customers that you are a viable solution to their quest for a healthy meal choice. These tray sealer machines are complete and ready to seal your selected food packaging containers, all while giving you the professional look that you've always wanted. Our food packaging containers will make a perfect match for your delicious product.

If you are looking at packaging food or ready-to-eat meals into a CPET, APET or PP tray, then we are the go-to people. We have the trays (dual ovenable CPET or APET), the tray sealers (manual, automated, MAP) the film and the experience. It is just that simple!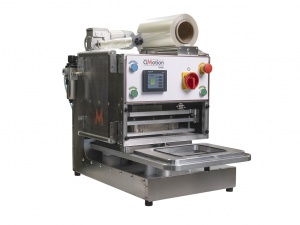 The CiMotion is truly a tray sealing system like no other. Do not let its small size fool you. The CiMotion is designed to produce meal trays and can be placed even in the smallest of facilities. The CiMotion runs on 110V which adds to its versatility.

All controls are located at the front of the CiMotion and the touch panel provides easy access to the sealing parameters, take away food tray selection, and tool change. Our temperature controller individually controls the temperature of each sealing element thus creating the optimal sealing environment.

The real beauty of the CiMotion is the turntable operation. While one meal tray is being sealed another new tray is being loaded onto the turntable which is then rotated into the sealing chamber. This feature allows one operator as close to continuous operation as possible.

Tool changes from one tray style to another are quick and easy. Convenient access from the front allows the operator to make the switch in less than 5 minutes.

Trays that work with our CiMotion are as follows:

Rectangular: 1171 - 2171 - 2187 - 2200 - 2220 - 2208 - 2227
Circular: 0080 - 0095 - 0123 - 0124 - 0126 - 0160
Special: 0503 - 1085 - 2182 - CP4S

Incorporated safety features:
• Low compressed air supply alert
• Easily accessible power switch and E-Stop
• 2 button operation assures that operator's hands are safe
• Position detector to ensure proper tray position before sealing
• Tamper proof panel/cover detector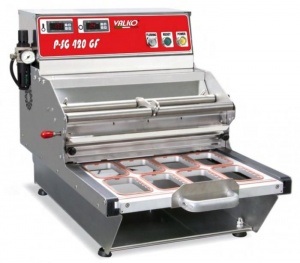 The P-SG 420 GF is the optimal table top tray sealing unit for small to medium productions where gas flush packaging is being used to increase the shelf life of your product. The small foot print of the unit allows for it to be placed easily within production facilities and test kitchens.

The unit is built in stainless steel, with a Teflon coated aluminum plate.

*Seal Only or Gas Flush

CiMa-Pak Stock Tray Tooling Set Up
3 Trays Per Cycle – 1171 Series, 2202 Series
2 Trays Per Cycle – 2171 Series, 2187 Series, 2200 Series, 2208 Series, 2220 Series
1 Tray Per Cycle – 2227 Series

Electrical version also available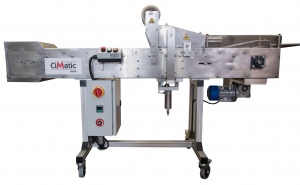 The CiMatic Tray Sealing Machine has been designed to offer customers an automated system at an affordable price. The goal is to seal ready meal trays fast and effectively at speeds up to 20 per minute.

Tell us which food trays best suit your application from our selection below and we will set the temperature, production speed and pressure so that all you have to do is turn on the CiMatic and allow it to heat up. This automatic food packaging machine does all the work for you. All you have to do is place your delicious meals onto the conveyor and the to-go containers will be hermetically sealed to ensure a leak-proof transportation of your product. The lidding film will be straight cut between each tray, giving your meal the product presentation you've always wanted.

The CiMatic meal packaging machine also allows for quick tray mold changes. This means that you can seal a variety of different styles and sizes of trays with this one food packing machine.

Watch the attached video to see the CiMatic in action and for a demonstration of the mold changes.

Unique features of the CiMatic :
- Food trays are transported using single pallet design, no joints.
- Changing from one tray size to another is easy.
- Motor is 1/4 HP with inverter.
- Jog conveyor backwards and forwards for easy set up
- Aluminium - Stainless Steel Build
- 2 Locking Castors
- Working Height: 35i
- Emergency STOP button on operator control panel – easily accessible from either side of the loading station
- Safety guards are in place

The following parameters can be changed by the operator:
- Temperature
- Sealing Pressure
- Conveyor speed

Speed of sealing by tray series at a comfortable level for the operators.
- 2171 Series - *20 Trays/min
- 2187 Series - *20 Trays/min
- 2208 Series - *14 Trays/min
- 2227 Series - *15 Trays/min
* The speed is adjustable by the operator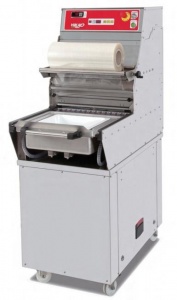 The Unica 25 is designed for businesses looking to start up or ramp up their existing tray sealing production to a medium level of output. At the same time affording them the ability to seal larger tray styles for catering and family sized meals and portions. Largest tray size is 370 x 280 x 115mm (14.5 x 11 x 4.5")

The tray sealer allows production to switch from one tray style to another with its easy and rapid tool change system, which is unavailable on smaller units. No tools required.

The Unica 25 is impressively built in stainless steel and aluminum, allowing for easy cleaning and up keep of the unit. It comes standard with a vacuum pump that is 25m³

CiMa-Pak Trays Tooling Set Up
3 Trays Per Cycle – 1171 Series, 2182 Series
2 Trays Per Cycle – 2171 Series, 2187 Series, 2200 Series, 2202 Series, 2208 Series, 2220 Series
1 Tray Per Cycle – 2227 Series, 2290 Series, 2325 Series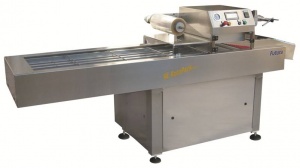 The FUTURA is a small footprint, automatic tray sealer machine which offers all of the features of our larger systems at a fraction of the cost. It can seal meal trays made of PP, PE, CPET, APET and Aluminum. This machine is available in a 'seal only' mode or a modified atmosphere packaging (MAP vacuum packaging) mode. Robust, compact, easy to use and economical, the FUTURA is designed for medium levels of production.

Features:
• Rapid-change mould system, making it possible to switch from one tray style to another within a few minutes and giving you great sealing versatility.
• Teflon-coated sealing plates.
• Stainless steel and aluminum structure.
• Sensors for vacuum and gas.
• Die cutting of the lidding film to the contour of the tray, giving your finished product a nice clean look.
• Possibility to use 2 chambers with different tools.
• As with any CiMa-Pak sealing system, all safety measures have been addressed in the high pressure, high temperature, and pinch zones.

Individual product programming – there are up to 10 different programs – is accessed through the operator interface well located on the front panel. The following parameters are modified through this Control Panel:
• Temperature
• Sealing time
• Dwell time
• Film advance for scrap rewind

* Please note that the output is dramatically reduced on the vacuum/gas models.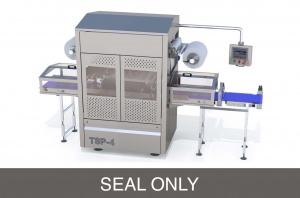 When it comes to tray sealers speed can be the ultimate deciding factor. If you have a production deadlines to meet then speed can make or break your contract. Single lane production means that your product travels through the MAP/sealing section onto the exit conveyor and then, if available through a metal detector and labeler into the pack out section.

The 10" Touch Screen permits the operator (separate login per operator) to easily recall a previously stored program (up to 29 programs) or change the existing parameters of the program which is running. This means that at the beginning of a production run you can run at a slower speed to ensure that everything is running correctly then ramp up the cycle speed.

Equally impressive is the fact that you can use printed film to an eyemark or clear film to a predetermined length. And speeds are impressive. The film unwind is driven which adds to the speed and accuracy of film placement.

Cycle Speed: 16 cycles/min.*

Tooling Set-Up: #2171 #2187 #2200 #2208 #2227 #2325
5 Trays 5 Trays 4 Trays 4 Trays 4 Trays 2 Trays

A few other nice features:

• Integrated network connection
• Detector for end of roll as well as a break in the film
• Structure manufactured from AISI Type 304 Stainless
• Software adaptable for additional peripherals i.e.: tray destacker, doser, labelers, and much more.
• Pneumatic system by Festo
• Electronic components such as: frequency inverter, drives, plc, and touch screen are all supplied by Schneider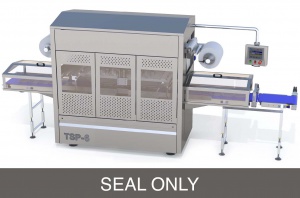 Like the smaller model TSP-4 and the larger model TSP-8, the TSP-6 is a high-speed tray sealer. While this model is Seal Only it is also with the option MAP or SKIN process. And when it comes to tray sealers speed can be the ultimate deciding factor. If you have a production deadline to meet then speed can make or break your contract. Single lane production means that your product travels through the MAP/sealing section onto the exit conveyor and then, if available through a metal detector and labeler into the pack out section.

The 10" Touch Screen permits the operator (separate login per operator) to easily recall a previously stored program (up to 29 programs) or change the existing parameters of the program which is running. This means that at the beginning of a production run you can run at a slower speed to ensure that everything is running correctly then ramp up the cycle speed.

Equally impressive is the fact that you can use printed film to an eyemark or clear film to a predetermined length. And speeds are impressive. The film unwind is driven which adds to the speed and accuracy of film placement.

Cycle Speed: 16 cycles/min.*

Tooling Set-Up:
#2171 #2187 #2200 #2208 #2227 #2325
8 Trays 7 Trays 6 Trays 6 Trays 6 Trays 3 Trays
*Approximate based upon operators and meals being packaged.

A few other nice features:

• Integrated network connection
• Detector for end of roll as well as a break in the film
• Structure manufactured from AISI Type 304 Stainless
• Software adaptable for additional peripherals i.e.: tray destacker, doser, labelers, and much more.
• Pneumatic system by Festo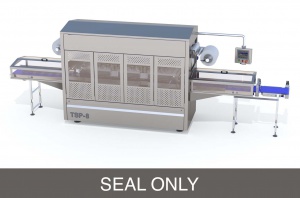 Like its' smaller versions, the TSP-4 and the TSP-6, the TSP-8 is definitely the choice when you are looking for a high-speed solution without compromise. And then the number of trays per cycle is outstanding.: Looking at the 1/2 size gastronome tray is will do 4 per cycle.

When it comes to tray sealers speed can be the ultimate deciding factor. If you have a production deadline to meet then speed can make or break your contract. Single lane production means that your product travels through the MAP/sealing section onto the exit conveyor and then, if available through a metal detector and labeler into the pack out section.

The 10" Touch Screen permits the operator (separate login per operator) to easily recall a previously stored program (up to 29 programs) or change the existing parameters of the program which is running. This means that at the beginning of a production run you can run at a slower speed to ensure that everything is running correctly then ramp up the cycle speed.

Equally impressive is the fact that you can use printed film to an eyemark or clear film to a predetermined length. And speeds are impressive. The film unwind is driven which adds to the speed and accuracy of film placement.

Cycle Speed: 16 cycles/min.*

Tooling Set-Up:
#2171 #2187 #2200 #2208 #2227 #2325
11 Trays 10 Trays 9 Trays 9 Trays 8 Trays 4 Trays
*Approximate based upon operators and meals being packaged.

A few other nice features:

• Integrated network connection
• Detector for end of roll as well as a break in the film
• Structure manufactured from AISI Type 304 Stainless
• Software adaptable for additional peripherals i.e.: tray destacker, doser, labelers, and much more.
• Pneumatic system by Festo
• Electronic components such as: frequency inverter, drives, plc, and touch screen are all supplied by Schneider